Cooler weather – hunger
As winter is coming to a close in the southern hemisphere it is still reminding us that it is having its say for some time yet. Today is especially one of those days when we are looking at making a nice warm healthy recipe while longing for summer to hurry up and appear.
I'm going to focus on 'slow cooking' in this article, despite wanting warm food 'now' these recipes following are great for any time, making life a little easier no matter when used.

Rainy weather food
Crock Pots & Slow Cookers are excellent for warm healthy food, so what is the difference, if any? 
Crock-Pots and slow cookers use moist heat to cook food over a long period of time. Both are used to cook the same types of foods, and both produce the same delicious results.
These wonderful, small kitchen appliances even contain the same three components: a ceramic inner, a glass lid, and a heating element, of course, there is a temperature control system, usually placed on the front of the appliance. 
Crock pots and slow cookers are in millions of homes throughout the world as they are so very convenient and so very easy to use. – Put your dinner on before you got to work and it's ready when you get home at the end of the day. Or, put it on before you go to bed and your meal is complete by morning. (great for when going to an outing during the day and need to take food for several as you can transport it all in the one container). But cooking overnight, you can also have breakfast ready for the next morning.
Here are some ideas for you to include either at the end of the southern hemisphere winter season or for those of you in the who are heading into your winter in the northern. – And that's not in the too distant future.
Slow cooker Porridge
Ingredient amounts you use would be the same as you would if cooking conventionally – however, I always use extra cos it's so yummy you can keep for later in the day!
Place your rolled oats in the slow cooker with a pinch of salt, then pour over the water, or a mixture of milk and water. Put the slow cooker on its lowest setting and cook overnight for 7-8 hours.
OR step outside the box by adding these delicious ingredients (all or some) to flavour that morning greeting.
Peel and chop apple (granny smiths are excellent as they won't break up)
Grated carrot
Sprinkle cinnamon over the mixture
Guess what will greet you in the morning?  Carrot caked flavoured porridge – imagine that! – Drizzle maple syrup or sprinkle with raw sugar before consuming.
Your family (& guests) will think you're the best!
Tip: The first time you make it, make it during the day, as slow cookers can be a little different; it should be fine but some can run quite hot, so I would pop it on in the morning one day and give it a test run to see how it goes before cooking overnight. Porridge is a perfectly acceptable dinner or dessert.
Vege Lasagna
250gms part-skim ricotta
250gms package baby spinach, coarsely chopped
3 large or 4 small portobello mushroom caps, gills removed  halved and thinly sliced
1 small zucchini, quartered lengthwise and thinly sliced
1 420g can crushed tomatoes
1 420gm can diced tomatoes
3 cloves garlic, minced
Pinch of crushed red pepper (optional)
15 whole-wheat lasagna noodles uncooked
3 cups shredded part-skim mozzarella cheese
Preparation
Preparation time:  30mins
Ready in 2hrs on high – 4hrs if set to low
Combine egg, ricotta, spinach, mushrooms and zucchini in a large bowl.
Combine crushed and diced tomatoes and their juice, garlic and crushed red pepper (if using) in a medium bowl.
Generously coat a 6-quart or larger slow cooker with cooking spray. Spread 1½ cups of the tomato mixture in the slow cooker. Arrange 5 noodles over the sauce, overlapping them slightly and breaking into pieces to cover as much of the sauce as possible.
Spread half of the ricotta-vegetable mixture over the noodles and firmly pat down, then spoon on 1½ cups sauce and sprinkle with 1 cup mozzarella.
Repeat the layering one more time, starting with noodles. Top with a third layer of noodles. Evenly spread the remaining tomato sauce over the noodles. Set aside the remaining 1 cup mozzarella in the refrigerator.
Put the lid on the slow cooker and cook on High for 2 hours or on Low for 4 hours. Turn off the slow cooker, sprinkle the reserved mozzarella on the lasagna, cover and let stand for 10 minutes to melt the cheese.
Tips: The dark gills found on the underside of a portobello mushroom cap are edible, but can turn a dish an unappealing grey colour. If you like, gently scrape the gills off with a spoon.
For easy cleanup, try a slow-cooker liner. These heat-resistant, disposable liners fit neatly inside the insert and help prevent food from sticking to the bottom and sides of your slow cooker.
Vegetable Lover's Chicken soup
Vege & chicken soup

Ingredients
:
1 tablespoon extra-virgin olive oil
8 ounces chicken tenders, cut into bite-size chunks
1 small zucchini, finely diced
1 large shallot, finely chopped
½ teaspoon Italian seasoning blend
⅛ teaspoon salt
2 plum/red tomatoes, chopped
1 14-ounce can reduced-sodium chicken broth
¼ cup dry white wine (this is optional)
2 tablespoons orzo, or other tiny pasta, such as farfelline
1½ cups packed baby spinach
Preparation
Active 35 mins
Ready in 2hrs on high (I like to turn mine to low and for at least 4hours to capture the full flavourings).
Heat oil in a large saucepan over medium-high heat. Add chicken and cook, stirring occasionally, until browned, 3 to 4 minutes.
Transfer to slow cooker.
Add zucchini, shallot, Italian seasoning and salt, add tomatoes, broth, and orzo (or other tiny pasta); wine is optional but replace with stock or water if not using. Stir all together and cover with lid. Leave until cooked, usually 2hours on high, 4hrs or longer on low. While this is cooking you can prepare the pasta until tender but not too soft as more cooking will be done when added to soup mix.  Stir in spinach, about 15mins before the meal.
Make Ahead Tip: Cover and refrigerate up to 3 days or freeze up to 3 months.
Slow-Cooker Baked Beans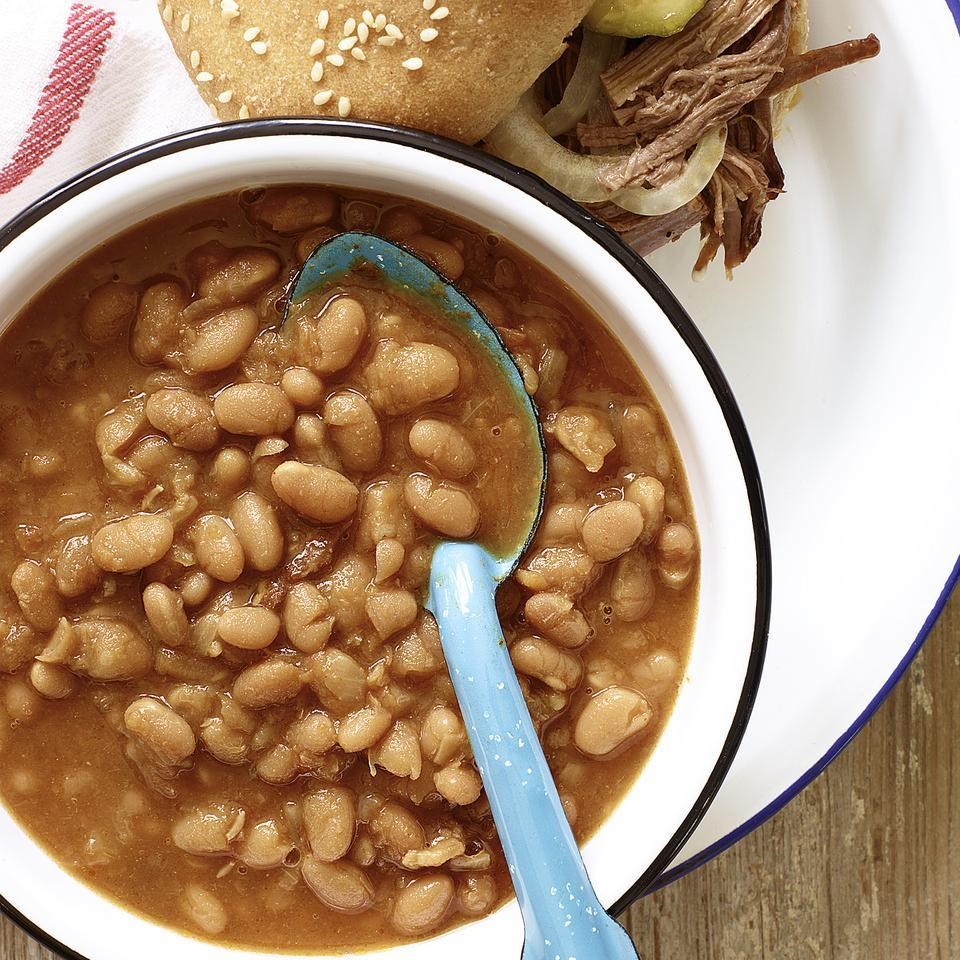 A delicious dish – and this can be served at a barbecue also. It is a classic baked bean recipe which is made simple by simmering in a slow-cooker. Spike it with bourbon (optional), maple syrup and molasses, healthy baked beans with just the right amount of bacon to add a salty touch of smokiness.
Ingredients
1 large sweet or yellow onion, diced
4 slices bacon, cut into 1-inch pieces Hickory Smoked Thick Cut Bacon
3 tablespoons bourbon or low-sodium chicken broth
500gms dry navy beans or haricot beans, soaked (see Tip)
3 cups low-sodium chicken broth
½ cup tomato ketchup
¼ cup pure maple syrup or light brown sugar
2 tablespoons molasses
1 teaspoon dry mustard
¼ teaspoon ground chipotle pepper or hot chilli powder
1 tablespoon cider vinegar
¾ teaspoon salt
Preparation
Cook onion and bacon in a large skillet over medium-high heat until the onion is starting to brown, 6 to 8 minutes. Reduce heat to medium-low and continuing cooking until the onion is very soft, about 5 minutes more. Stir in bourbon (or 3 tablespoons broth) and cook for 1 minute, scraping up the browned bits. Set aside.
Drain and rinse the soaked beans; transfer to a 5 or 6-quart slow cooker. Stir in 3 cups broth, ketchup, maple syrup (or brown sugar), molasses, dry mustard and chipotle (or chilli powder).
Spoon the onion-bacon mixture on top of the bean mixture, but don't stir the two together. (The layer on top helps keep the beans submerged during cooking so they don't dry out).
Cover and cook on High for 6 hours or Low for 8 hours. Stir in vinegar and salt just before serving.
Make Ahead Tip: Cover and refrigerate for up to 3 days or freeze for up to 3 months; reheat before serving.
DESSERT
Now we all know that everyone likes to have a dessert from time to time, so I absolutely couldn't leave this one out of the article, no matter if it is a weeny bit 'unhealthy'.
Chocolate Self Saucing dessert
Ingredients
100g unsalted butter, melted

1/2 cup (125ml) milk

1 egg

1 cup (150g) self-raising flour

2 tablespoons cocoa powder

1/2 cup (110g) caster sugar
2 tablespoons cocoa powder
1 cup (220g) brown sugar, firmly packed
2 cups (500ml) boiling water
---
Preparation
Combine butter, milk and egg in a bowl.
In a separate bowl, sift the flour and cocoa powder before mixing through the caster sugar.
Add the wet ingredients into the dry and mix well. Put ingredients in a greased pudding bowl.
Mix the cocoa powder and brown sugar together and cover the wet pudding mix. Carefully pour the boiling water over the top.
Place the pudding bowl into the slow cooker, and cook as either a slow method for 5-6 hours on Low or on High for a quicker method for 3.5 hours.
CONCLUSION
Keep healthy and warm during the cooler weather with these warm 'healthy' recipes. – Enjoy.
If you have a favourite slow cooker recipe, please feel free to drop it into the comment box.
bye for now.
Linda